Weed experts watching spring melt conditions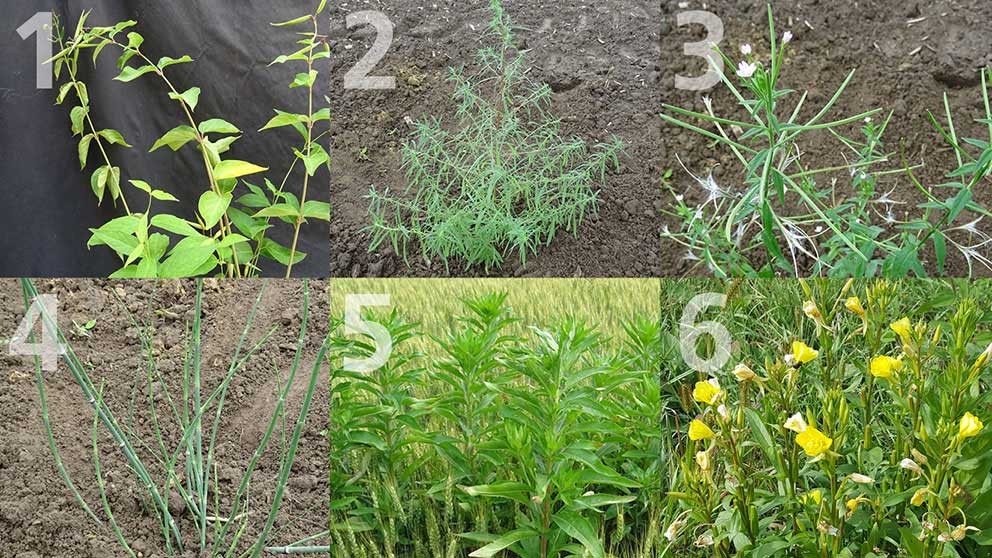 1 - Dog strangling Vine  2 - Kochia  3 - Northern willowherb  4 - Scouring rush  5 & 6 - Yellow evening primrose
Mother Nature is throwing another curve ball this spring at weed forecasts, thanks to appreciable snowfall in some parts of the country's farming areas that may spark flooding.
If that happens, weed seed distribution can be extended significantly by floodwaters.
This is an immediate concern in Ontario's southwest, where snow melt and ice jams on the Thames River cause problems, and in Manitoba, where eyes are fixed on the Red River basin.
"A lot depends on the snow melt right now," says Rob Gulden, a weed ecologist at the University of Manitoba. "Some overland flooding is expected in Canada and the U.S., and that may result in a wider distribution than normal of weeds, including some encroachment from resistant weeds from the U.S. Flooding will also influence weed emergence times."
Possible spring flooding could mean an influx of weeds this year on some Canadian farmlands and field scouting is critical, experts say. Tweet this
Weed pressure expected to be high
Observers like Gulden were already expecting a flush of some weed species such as green foxtail and pigweed. That's because the weed seed bank for these seeds was well replenished last summer and fall, owing to the dry weather.
Now, when the heavy snow accumulation melts, soil moisture levels will be high. That will provide that replenished seed bank an opportunity to take hold once the weather warms up.
"These are good conditions for early weed recruitment," Gulden says.
Ontario's watchlist
In Ontario, weed science technician Dave Bilyea at the University of Guelph's Ridgetown Campus compiled a list of a dozen weeds to watch for this season in the province, along with other problem weeds and noxious weeds.
Half of them have already developed some measure of herbicide tolerance:
Annual bluegrass
Northern willowherb 
Kochia  
Scouring rush  
Yellow evening primrose  
"They're not widespread yet, but they're up-and-comers we need to watch," Bilyea says.
One of them, waterhemp, is a huge problem in the United States, he says, where it's developed resistance to more than three modes of action. Now, it's creeping northward and already arrived in parts of Ontario.  
Another weed from the U.S. to watch is palmer amaranth, which is found in the United States around the Great Lakes and will inevitably arrive in Canada. 
Weeds are hiding in plain sight
Bilyea says waterhemp is an example of "a weed that hides in plain sight," with its close resemblance to native pigweeds. 
The same goes for dog strangling vine, another weed on Bilyea's watch list. In eastern Ontario, some pastures have been beset with this weed, which develops in nearby woodlots amid other weeds such as poison ivy and wild grape. It too hides in plain sight until it starts creeping into fields and pastures. 
Bilyea says early detection of any weed species is key.
"It's all about scouting and awareness," he says. "Knowing what's regular in your fields will help identify new weeds that need to be addressed. But even the ones to watch aren't everywhere. If we know they've arrived, we have a chance to control them before they spread."
Bottom line
Weed forecasts are influenced greatly by significant snowfall in many of the country's farming areas that may spark flooding. Field scouting will be critical this spring for weed monitoring and staying on top of any possible problems, especially from herbicide resistant weeds.